This past weekend we packed up the car and headed down to Pfeiffer Big Sur for some awesome California camping. We had such a great time. Unfortunately the weather has been so dry, that a burn ban was in effect. No worries, we improvised with a Wisperlite camp fire!
Max was such a good little camper. He "helped" set up the tent and everything!
Needless to say, camping had me all distracted and I didn't get a chance to post about the weeks meals.
But I am now, so fret not!
Sunday:
Tacos & Margaritas. (30 minutes)
Do we really need to repeat this one each week? Well we have it every weekend! What can I say, we love tacos in this house.
A new addition this week: Creamy Avocado Yogurt Dip from Two Peas and Their Pod.
This stuff is seriously to die for. I'm surprised I was even able to get a picture before it was devoured. We loved it and ate it all in one sitting.
Don't judge me!
Monday:
Skillet Shrimp with green beans and water chestnuts

Because we now have a big bag of frozen shrimp from Costco, a dish similar to this is going to be a staple in our house for a while.

I love the Thai basil coconut chicken and shrimp dishes that we've made before, but I knew I had a busy week ahead and wouldn't feel like making the sauce or the rice.

Yes, I was that lazy that I didn't want to spare 15 minutes to put some rice in a pot and let it cook.

Directions:

- Begin by cooking fresh green beans in a pot of boiling water until desired consistency. I started them just before the shrimp and once the shrimp was done cooking, they were ready.
- Mix together 2 tsp cumin, 1/4 tsp chili powder, 1/4 tsp ground pepper, sprinkle of salt, 1/2 tsp garlic.
- Toss with 1 can of drained water chestnuts and 16 shrimp peeled and deveined.
- In a skillet, bring warm some butter or olive oil over medium-high heat
- Saute shrimp and water chestnuts, cooking about 3-4 minutes per side. I like to let the shrimp get that nice golden color on each side.
- Toss with cooked green beans and serve.
This dish has a really nice thai flavor that is very forward. Even Max loved it!
Tuesday: Tortilla Casserole courtesy of Melissa Crain
A few weeks back I asked my friends to list for me their favorite mid week meals. This one comes from my friend Melissa. Thanks Mel!

Ingredients:
cheese, 1lb ground beef, 1 yello onion, 2 cans cream of chicken soup, 1 can evaporated milk, 1 can rotel, chili powder, salt, pepper, tortillas

Directions:

- Saute 1 lb ground beef in some butter until cooked, adding salt, pepper, and chili powder to taste.
- In a separate pan, saute 1 small yellow onion.
- To the onions, add 2 cans Cream of Chicken soup, 1 can of evaporated milk (Pet milk?), and 1 can of Rotel.
- In a casserole dish, make layers of tortillas (I'm doing 1 side flour, 1 side corn), soup mix, meat, and cheese. Repeat layers until done.
- Bake at 350 for 30-45 minutes.
Wednesday:
One Pan Chicken with Creamy Sun Dried Tomato Pesto Sauce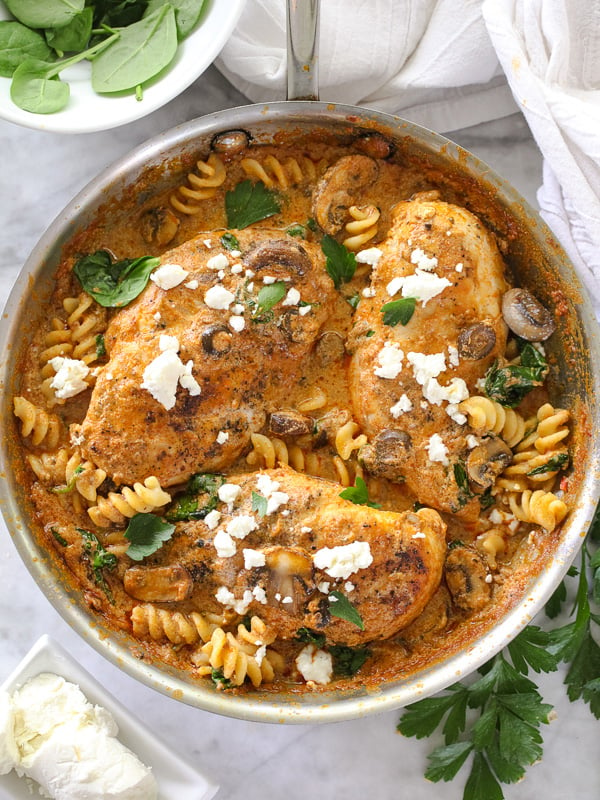 I found this one on Foodie Crush and it looks delicious.
Plus, 1 pot! How can you beat that?
You can't.
And you shouldn't try.
What you should do, is take yourself over to Foodie Crush and check out this recipe.
(cooks note: I couldn't find her exact sun-dried tomato pesto sauce at my store, but I found something close and I'm sure it will taste just as delicious)
Thursday:
Quiche
I don't have an exact recipe for this one yet, but my plan is to combine a few that I find online such as THIS ONE from the food network.
At Berkeley Bowl we found an organic whole wheat pie crust. What makes a pie crust organic? Not sure, but it makes me feel better, so I guess that's all that counts.

Our quiche will be comprised of sausage, cheese, mushrooms (on 1/2), spinach, and maybe asparagus.

Lunch: BBQ Chicken

2.5 lbs of chicken breasts + 1 jar bbq sauce + 1 crockpot for 4 hrs on high = delicious and easy.
Side Caesar salads and some sun chips and you've got yourself a pretty decent lunch.
Bon Appetite!